Winter Weather Tips for Heating Oil and Propane Delivery Customers
During snowy weather and winter ice storms, please keep the following three tips in mind.
1. When to order your propane and heating oil.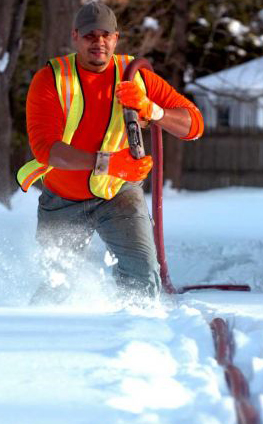 If you are a Will-Call customer, please make sure we have your heating fuel order a minimum of five days in advance of the snow. Never let your tank go below 1/4 full before you place your next heating oil or propane delivery order. You use more heating fuel with cold temperatures and snow and ice slow down delivery services.
If you would like to switch to automatic delivery status, please contact our office. We do offer an automatic delivery fuel discount for customers with a 12-month automatic delivery contract.
2. Shovel a path to your fill pipe.
Did you know a fully charged heating oil fuel hose weighs about 150 pounds? Please help us keep our drivers safe. Shovel a path to your oil fill pipe or propane tank and mark the location with a stick or flag so that we can make your delivery.  Winter days are shorter and our drivers may be delivering during late afternoon or evening hours.
3. Access to your driveway.
Please clear your driveway of snow and ice. Safety is our first concern when delivering your home heating fuel. Remember that the wheelbase for a heating fuel delivery truck is at least four or five feet wider than that of your car.
Thank you.
Request HVAC Service
Schedule your annual safety check & tune-up or request repair service online.
We sell and service all makes and models of propane, oil, or natural gas systems.