Community Involvement
Fueling change in our communities.
John Ray & Sons has been a part of the community for more than a century, and we strongly believe in giving back to our friends and neighbors who have encouraged us over the years. That's why we make a point of helping many worthy causes in and beyond the Capital Region.
Here is a partial listing of the many organizations we have supported over the years:
Brunswick Little League
Burnt Hills – Ballston Lake Little League
Troy-Albany Youth Hockey Association
Big Brothers, Big Sisters
Boy Scouts of America Twin Rivers Council
Vanderheyden Hall
To Life!
Wounded Warriors
The Leukemia & Lymphoma Society
St. Coleman's Home
Double H Ranch
Troy Public Library
National Multiple Sclerosis Foundation
Lansingburgh Boys & Girls Club
Catholic Charities Housing Office
M&M Fund at the Glens Falls Foundation
Cystic Fibrosis Fondation
American Cancer Society
Make a Wish Foundation of NENY
Movember Foundation
American Heart Association
St. Jude Children's Research Foundation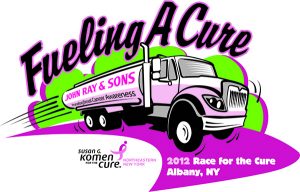 In 2008, John Ray & Sons started Fueling a Cure, a program to increase awareness of breast cancer and promote early detection.A portion of the proceeds from each gallon of fuel delivered by The Pink Truck benefits the local affiliate of Susan G. Komen and are used for screenings, education, and treatment.
Over the past 10 years, you have helped us raise over $136,000. Thank you!