Fuel storage tank rental
Need a fuel storage solution?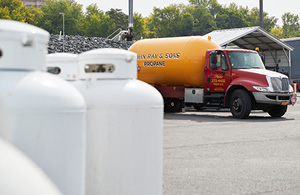 If you are looking for a cost-effective, short-term solution for diesel or fuel oil storage, we can help. John Ray & Sons has the right fuel storage tank at the right price. We will deliver the fuel and storage tank to your site – and retrieve the tank when the job is done.*
300- to 20,000-gallon capacity above-ground storage tanks for all petroleum products
Double-walled, dike, and fire-rated tanks
Fuel oil supply and vehicle fueling tanks
Skid-mounted tanks for easy handling
OSHA-compliant access ladders on larger tanks
All storage tanks are UL-listed
Make the right choice.  Contact us for premium fuel products and the best selection of top-quality rental fuel storage tanks at competitive prices – all available for immediate delivery and pick-up by dependable, experienced drivers.
Call 877-820-8938 or contact us.
*Fuel delivery and storage tanks are available only within our service area.

Optional Fuel Storage Tank Accessories
Overfill prevention valves
Fuel dispensers
Proper venting gauges
Level gauges
High-level alarms
Leak detector
Anti-syphon valves