Our history

During our long history, John Ray & Sons has delivered coal, wood, kerosene, diesel fuel, propane, and home heating oil to customers throughout the Capital Region of New York. But in the beginning, keeping people warm was the furthest thing from our minds. In fact, we were all about — being cool. At the dawn of the 20th century, our founder, John Ray, was working for a firm in Coxsackie delivering ice to the New York City area. At age 16, John moved to Troy, NY, a burgeoning community where he sensed growth potential for his own ice delivery company. In 1904, he bought a horse and started an ice delivery service called, not surprisingly, John Ray.
Modern refrigerators were still decades in the future, and everybody had iceboxes. Back then, if you needed ice, you put a sign in your window to let the "Ice Man" know how many pounds to deliver that day. John's first two sons, Ed and Jeff, joined the company in the 1920s, and the name was updated to John Ray & Sons. J. Ken Ray, a third son, came on board in the 1930s. For the next two decades, John Ray & Sons continued hauling ice and began delivering coal and wood to people who needed it throughout Rensselaer County, NY.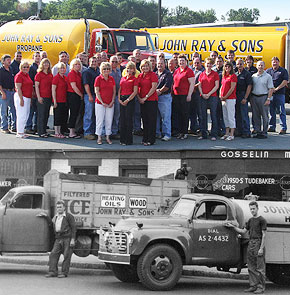 In the late 1940s, fuel oils were added to the roster of products, starting with kerosene and later heating oil. Although our company was diversifying its products and services, we continued harvesting and delivering ice until 1960. By the 1970s, the company was operated by John's sons, Jeff and J. Ken. In 1975 Ken, J. Ken's son, joined the business, ushering in the third generation of the family.
Trained in oil burner service, Ken began the service division in the late 1970s. During the next decade, our company added gas and diesel, and Ken Ray assumed ownership of the business. Since then, the business has continued to grow, expanding our service and territories, augmenting our staff and delivery fleet, and adding product lines including motor fuels, propane and biofuels.
The founder, John Ray, always said, "If you give people good service, they're going to stay with you." Times and technology have changed profoundly since we were established more than a century ago, yet we still proudly uphold John Ray's timeless values of integrity and reliability.
For more information, call 866-539-6327 or contact us.
See what customers say
"The employees have always been courteous and professional when I called the office or when they have been at my home."
— M. Gother, Chatham, NY