Propane Fill Station Locator
Need to refill your own 20# propane tanks?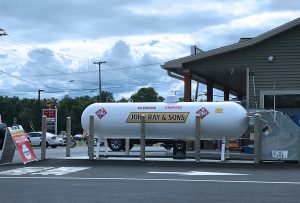 Conveniently located throughout our service area, our propane fill station dealers can safely and quickly refill customer-owned propane cylinders.
Whether you need propane for your RV, grill, outdoor lighting or heating appliances, or other uses, simply bring in your empty propane cylinder and have it refilled.
Here is a list of our most popular propane refill stations:
Albany, NY:
Hewitt's – 1969 Western Avenue
Islander Pools – 1967 Central Avenue
Amsterdam, NY:
Wheelwright – 197 Route 67
Argyle, NY:
Reids Hardware – 95 Main Street
Broadalbin, NY:
Hills Discount Beverage 556 County Highway 110
Burnt Hills, NY:
Country Acres Farm & Pet Center – 730 Saratoga Road
Cambridge, NY:
Pitcher Noble Ace Hardware – 40 East Main Street
Chestertown, NY:
All Brands Redemption – 6393 Route 9
Clifton Park, NY:
Hewitt's – Corner of Route 9 & Sitterly Road
Defreestville, NY:
Heims Auto Care – 458 North Greenbush Road
Duanesburg, NY:
Frosty Acres – 1560 Skyline Drive
East Greenbush, NY:
Hewitt's – Corner of Route 4 & Mannix Road
Glenmont, NY:
Hewitt's – 605 Fuera Bush Road
Greenfield, NY:
Mihalek's Service – 3065 Route 9N
Mulholland Enterprises – 2084 Route 9N
Lake George, NY:
King Phillips Campground – 14 Bloody Pond Road
Lake George RV Park – Route 149
Lake George Riverview Campground – 3652 state Rte 9
Latham, NY:
Albany RV – 48 Rensselaer Avenue
AFSCO Fence Supply – 185 Troy-Schenectady Road
L&W Landscape – 206 Troy-Schenectady Road
Nassau, NY:
Copeland Coating – 2900 NY 20
New Lebanon, NY:
Lebanon Valley Race Track – Route 20
North Bennington, VT:
Whiteman Feed Store – 1873 Route 67
Pittstown, NY:
Pittstown Grocery – 3187 Route 7
Pottersville, NY:
All Brands Redemption – 7875 Route 9
Queensbury, NY:
Hewitt's – 294 Quaker Road
Meg's Deli & Catering – 2660 Route 9L
Rensselaer, NY:
Beckers Farm – 420 Columbia Turnpike
Schenectady, NY:
Adams Cooling – 2099 Curry Road
Scotia, NY:
Hewitt's – Corner of Route 50 & Charlton Road
Troy, NY:
John Ray & Sons – 2900 Sixth Avenue
Wilton, NY:
Hewitt's – Route 9 (Maple Avenue)
Wynantskill, NY:
Raizada Fuel – 63 Main Avenue