Propane services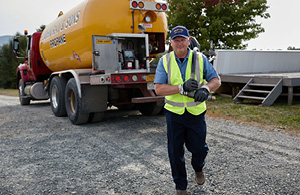 John Ray & Sons is pleased to offer propane heating and delivery service for your home. Propane is a pure, clean, safe alternative energy fuel that has no odors or residues with proper equipment operation. Once delivered, it's immune from price or supply fluctuations. And propane works where other energy sources don't.
Indoors
We install high-efficiency propane heating systems, which cost less to operate than wood furnaces or electric heat sources. Our expert team will advise you on the right configuration and size requirements for your home's new propane system and provide complete propane tank and furnace installation.
Our team can set up and service installations to power your water heater, clothes dryer and more. You can also use propane for your cooktop or oven or make it provide a warm welcome in your propane fireplace.
Attached to a generator, propane could power your home and keep life running normally during an outage, when other energy sources can't get through.
Outdoors
Keep your pool or hot tub at the perfect temperature for your enjoyment throughout the season.
Keep outdoor spaces warm and comfortable with fuel patio heaters, mosquito eliminators, fireplace pits and hearths.
John Ray & Sons are your local propane pros.
You can rely on our local team for better savings, service and support for all your home propane needs.
Dependable automatic delivery
Affordable prices and payment plans
Certified service technicians and drivers
24-hour emergency service
Budget payment plan
Guaranteed supply
Free tank inspections and gas leak safety checks
Call 877-820-8938 or contact us today to learn more about our propane services and find out how we can help keep you comfortable and save all year round.