Tank exchange stations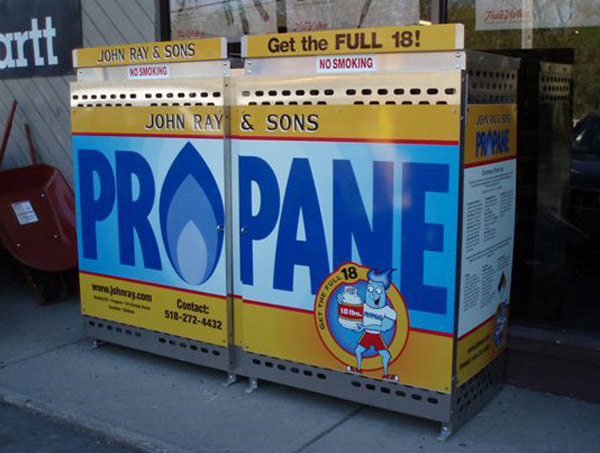 John Ray & Sons offers a propane tank exchange program called "Get the Full 18" in the Capital Region.
National companies reduced the amount of propane in their tanks from 18 to 15 pounds when fuel costs were high to avoid a price increase. And, they never went back – so you are getting almost 20% less in every tank.
Our propane tank exchange program benefits consumers by providing exchange tanks that are filled with the full amount of propane that they can hold.
By filling your propane tanks to the maximum, your fuel will last longer and you won't need to exchange tanks as often.
Plus, unlike many propane tank exchange companies, we clean, paint, and check the tanks under pressure for leaks before refilling and placing back in our exchange cages.
John Ray & Sons currently provides propane tank exchange stations at the following locations:
Need more information? Call 518-272-4432 or contact us.
Albany, NY: Vennard's Service Station, 435 North Pearl Street
Broadalbin, NY: Hills Discount Beverage, 556 County Highway 110
Brunswick, NY: Brunswick Fuel & Food Mart, 4005 NY Route 2
Castleton, NY: 95 Miller Road
Cropseyville, NY: The Grafton Town Store, 2432 NY Route 2
Hudson, NY: Mobil, Corner of 9H and Route 66
Latham, NY: 482 Albany-Shaker Road
Niskayuna, NY: Raizada Mart, 1747 Union Street
Pittstown, NY: Pittstown Grocery, 3187 Route 7
Saratoga Springs, NY: 177 South Broadway
Shushan, NY: Yushak's Store, 1042 County Route 61
Troy, NY: Engels Acres Farm, 445 Brunswick Road
Troy, NY: Sycaway Sunoco, 558 Hoosick Street
Troy, NY: John Ray & Sons, 2900 Sixth Avenue
Watervliet, NY: DeLollo's Hardware, 701 19th Street