John Ray & Sons to Sponsor Albany-Saratoga Speedway 2019 Racing Season as Official Fuel Sponsor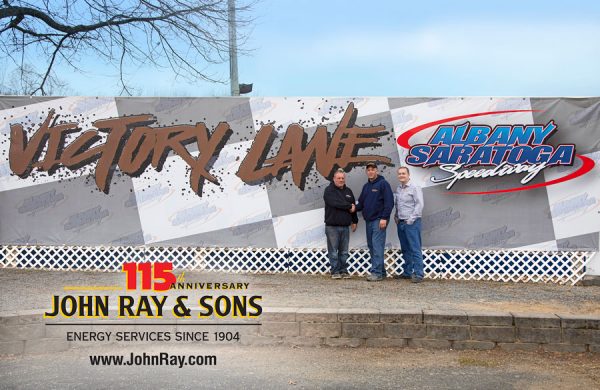 Wednesday, April 17, 2019 – John Ray & Sons, the area's oldest energy services company, is proud to announce their partnership with the Albany-Saratoga Speedway as the Official Fuel Sponsor for the 2019 racing season.
The 4/10-mile dirt oval track, located in Malta, NY, has become a premier auto racing venue featuring Friday night racing with five different weekly racing divisions including DIRTcar Modifieds, DIRTcar Sportsman, Limited Sportsman, DIRTcar Pro Stocks and Street Stocks. The company will be providing all fuel used at the track including diesel, gasoline, and propane.
"Partnering with the Speedway was a natural progression from our sponsorship of individual race teams in previous years," said Erik Pope. "We are celebrating our 115th anniversary and are excited to be working with local community organizations and businesses as a way of saying thank you to race fans and our customers."
Under the agreement, John Ray & Sons will also be sponsoring three $1,000 to Win Sportsman Nights throughout the summer, 50/50 raffle giveaways, and a new VIP experience for guests with pit access and an enclosed tower box suite on the 4th turn.
"We are happy to have John Ray & Sons as our Official Fuel Sponsor this year," said Lyle DeVore, who was recently recognized as the 2018 DIRTCar NE Track Promoter of the Year. "We have a lot of new faces and events on the grounds this year and are looking forward to a great season."
John Ray & Sons continues to sponsor four drivers and their teams this year, three of whom will be racing at Albany-Saratoga Speedway: Connor Cleveland (09), Jessey Mueller (19), Matt DeLorenzo (3D), and Brian Gleason (3G).
The 2019 Season Opener is scheduled for Friday, April 19, 2019, with a $5,400 Modified Shootout.
ABOUT JOHN RAY & SONS
Established in 1904 in Troy as an ice delivery service, John Ray & Sons has evolved through the years as times have changed – delivering ice, coal, wood, kerosene, diesel fuel, heating oil, propane, and biofuels to residential and commercial customers throughout the greater Capital Region, the southern Adirondacks, and Vermont.
Known for its service and innovative products, the company offers:
Reliable delivery of propane, heating oil, biofuels, and on- and off-road diesel
24-hour emergency service
Heating and cooling system sales, installation, and service
Propane fill and tank exchange stations
Celebrating their 115th anniversary this year, the company employs 80+ people and has a fleet of over 50 vehicles. John Ray & Sons provides service to Albany, Columbia, Fulton, Greene, Montgomery, Rensselaer, Saratoga, Schenectady, Schoharie, Warren and Washington counties in New York and Bennington and Rutland counties in Vermont.