John Ray & Sons' Pink Truck Raises $13,305 For Susan G. Komen
Friday, November 17, 2017 – John Ray & Sons' Pink Truck delivered 1.3 million gallons of heating oil and diesel over the past year driving their "Fueling a Cure" donation to Susan G. Komen Upstate New York to more than $123,000 over nine years.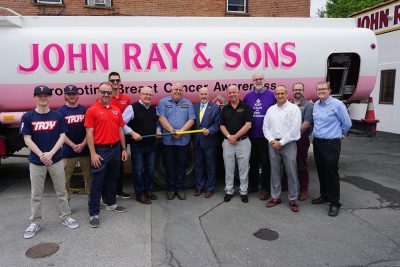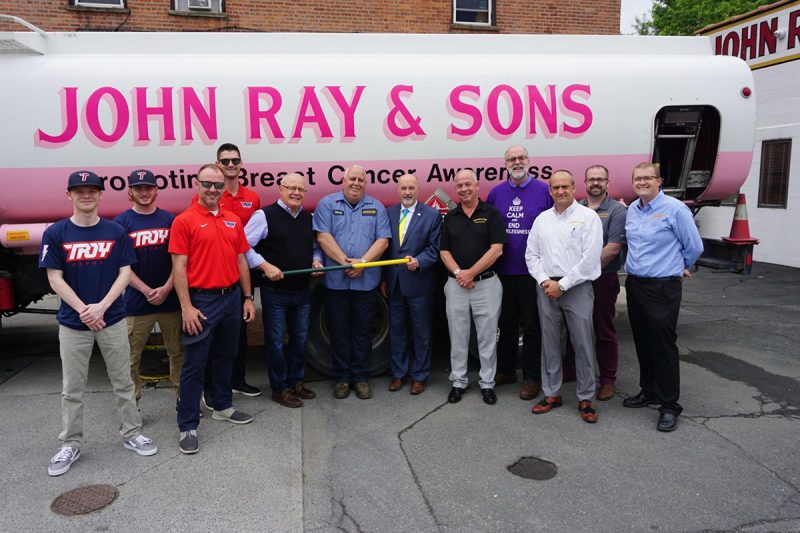 In 2008, the company painted one of its usually red and yellow trucks in pink and white, the signature colors of Susan G. Komen, and began the "Fueling a Cure" program. The mission was to raise funds for continuing education, screenings, and treatment in the greater Capital Region, and also use the truck as a moving billboard to promote breast cancer awareness and the importance of early detection.
"The success of the Fueling a Cure program is a true community endeavor. Our customers are the ones that drive the number of gallons which determines our annual donations. The fuel delivered by the Pink Truck resulted in a $13,305.00 donation for this year," said Erik Pope , General Manager of John Ray & Sons. "We also thank our suppliers, associates, and colleagues who have continually supported this program."
"Today, I am glad also to announce that we are extending the "Fueling a Cure" program for another year continuing John Ray & Sons' long-standing commitment to our local communities," Mr. Pope added.
"All of us at Susan G. Komen appreciate the ongoing efforts of John Ray & Sons and their "Fueling a Cure" program – not only for their fundraising, but by helping us promote awareness and early detection of breast cancer," said Sandra Goldmeer from the Susan G. Komen Upstate New York Northeaster NY office."They have been, and continue to be, a tremendous partner in the fight against breast cancer."
A check presentation was held on Wednesday, November 15, at John Ray & Sons' Troy location.
ABOUT JOHN RAY & SONS
Established in 1904 in Troy as an ice delivery service, John Ray & Sons has evolved through the years as times have changed – delivering ice, coal, wood, kerosene, diesel fuel, heating oil, propane, and biofuels to residential and commercial customers throughout the greater Capital Region.
Known for its service and innovative products, the company offers:
* Reliable delivery of propane, heating oil, biofuels and diesel fuel
* 24-hour emergency service
* Propane tank installation/set-up and monitoring
* Heating and cooling system sales, installation, and maintenance
* Propane fill and tank exchange station
ABOUT SUSAN G. KOMEN® AND KOMEN NORTHEASTERN NEW YORK
Susan G. Komen is the world's largest breast cancer organization, funding more breast cancer research than any other nonprofit while providing real-time help to those facing the disease. Komen was founded in 1982 by Nancy G. Brinker, who promised her sister, Susan G. Komen, that she would end the disease that claimed Suzy's life.
Komen Northeastern New York is working to better the lives of those facing breast cancer in the local community. Through events like the Komen Northeastern New York Race for the Cure®, Komen Northeastern New York has invested over $3.2 million in community breast health programs in our 15-county service area and has helped contribute to the more than $920 million invested globally in research.
For more information, call 518-250-5379 or visit komenneny.org.