John Ray & Sons' Pink Truck Delivers Total of $70,000 through Fueling a Cure Program
Tuesday, November 5, 2013 TROY, NY — At the end of its fifth year in service, John Ray & Sons' Pink Truck has delivered more than $70,000 to the Northeastern New York Affiliate of Susan G. Komen for the Cure.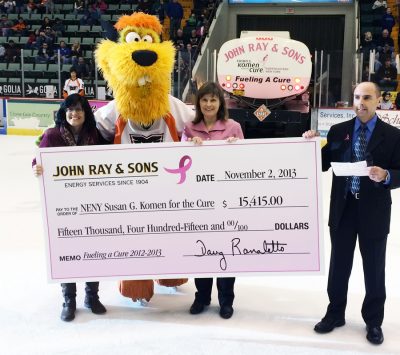 Starting in 2008, the company's distinctive Pink Truck has fueled breast cancer awareness and helped to raise funds for continuing education, screenings, and treatment in the greater Capital Region as part of the company's Fueling a Cure program.
The Pink Truck brought more than 1.5 million gallons of fuel between October 1, 2012 and September 30, 2013 to its customers, raising $15,415 in one year.
"The success of the Fueling a Cure program is a joint effort. We thank our loyal customers, suppliers, and colleagues who have given their utmost support," said Douglas Ranaletto, General Manager of John Ray & Sons. "As we extend the program for another year," Ranaletto said, "we proudly continue John Ray & Sons strong commitment to our local communities."
Lynette Stark, Executive Director of the NENY Affiliate of Susan G. Komen for the Cure, said, "We are truly grateful for the efforts of John Ray & Sons and this ongoing effort to raise not only funds, but also awareness of breast cancer. They have been and continue to be a tremendous partner."
On Saturday, November 3, a check presentation was made during the Adirondack Phantoms vs. Albany Devils game at the Glens Falls Civic Center.
The Phantoms supported the cause by offering fans $3 off tickets if they wore pink and mentioned Susan G. Komen for the Cure.
ABOUT JOHN RAY & SONS
Established in 1904 in Troy as an ice delivery service, John Ray & Sons has evolved through the years as times have changed – delivering ice, coal, wood, kerosene, diesel fuel, heating oil, propane, and biofuels to residential and commercial customers throughout the greater Capital Region.
Known for its service and innovative products, the company offers:
* Reliable delivery of propane, heating oil, biofuels and diesel fuel
* 24-hour emergency service
* Propane tank installation/set-up and monitoring
* Heating and cooling system sales, installation, and maintenance
* Propane fill and tank exchange station
To learn more about John Ray & Sons, visit johnray.com.
ABOUT THE NENY AFFILIATE OF SUSAN G. KOMEN FOR THE CURE
Locally, the Northeastern New York Affiliate, now in its 19th year, serves a 15-county area of New York and has raised over $3 million dollars for local breast health and breast cancer outreach, education, screening and treatment. For more information, visit www.komenneny.org.