John Ray & Sons Adds More Fuel to Breast Cancer Awareness Program with New Pink Van
Thursday, September 7, 2017  –  Troy, NY: John Ray and Sons announced they have added another pink vehicle to their "Fueling a Cure" fleet to help in the fight against breast cancer.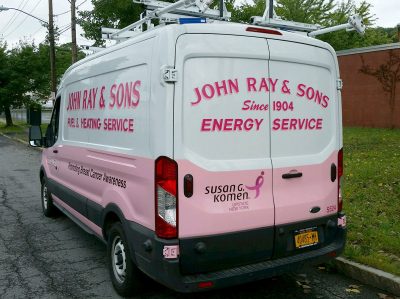 In 2008, the company painted one of their typically red and yellow fuel trucks pink and white and launched "Fueling a Cure".  The mission of the program is to raise funds for continuing education, screenings, and treatment in local communities throughout the greater Capital Region.
Over the past eight years, John Ray and Sons has delivered more than 11 million gallons of fuel in the Pink Truck, culminating in a donation over $110,000 to the local affiliate of Susan G Komen.
"We are proud of the benefits our 'Fueling A Cure' Program has provided to the communities we serve," said Erik Pope, General Manager of John Ray & Sons. "By adding another vehicle to this program, we hope to increase awareness of the importance of screening for early detection which can reduce future risk."
Driving Awareness with the "Spot the Pink Truck" Photo Contest
To further promote awareness of the fight against breast cancer and the importance of early detection, the company is asking for people to help share the message via social media.
To enter the photo contest, take a picture of the Pink Truck or Pink Service Van, and use the hashtag #FuelingACure on Facebook and Instagram, or text or e-mail the picture to johnrayandsons@gmail.com.  Each photo will count as one entry into the contest to win a $100 gift card to one of four participating restaurants:
Brunswick Barbecue and Brew, Troy
One Six Five at the Normanside Country Club, Delmar
Raindancer Restaurant, Amsterdam
The Docksider Restaurant on Glen Lake, Lake George
The "Spot the Pink Truck" Photo Contest ends October 15, 2017.
Susan G. Komen Passion2Action
John Ray and Sons is also proud to assist the Susan G. Komen Upstate New York's "Passion2Action" event at Crossgates Mall on Saturday, September 9, from 2-5 pm.  At this event, Susan G. Komen Upstate NY will be providing education about breast cancer and the actions you can take to help.
Teams and individuals are encouraged to register at the event for the Race for the Cure to be held on October 7, 2017, at the Empire State Plaza. Anyone registering or purchasing a tribute ribbon that day will receive a discount card for participating retailers at the mall which will be good the week after the race.
Visit johnray.com for more information.
ABOUT JOHN RAY & SONS
Established in 1904 in Troy as an ice delivery service, John Ray & Sons has evolved through the years as times have changed – delivering ice, coal, wood, kerosene, diesel fuel, heating oil, propane, and biofuels to residential and commercial customers throughout the greater Capital Region. As the oldest energy services company in the area, the company is known for its dedicated customer service, expertise in heating and cooling sales and service, and innovative product line.
ABOUT SUSAN G. KOMEN® AND KOMEN UPSTATE NEW YORK
Susan G. Komen is the world's largest breast cancer organization, funding more breast cancer research than any other nonprofit while providing real-time help to those facing the disease. Komen was founded in 1982 by Nancy G. Brinker, who promised her sister, Susan G. Komen, that she would end the disease that claimed Suzy's life.
Through events like the Komen Northeastern New York Race for the Cure®, Komen  has invested over $3.2 million in community breast health programs in our 15-county service area and has helped contribute to the more than $920 million invested globally in research.
For more information, call 518-261-1705 or visit komenupstateny.org.