How do I know when to replace my water heater?
1. How old is your water heater?
Water heaters last on average about 10-12 years. Factors including heavy use, cooler climates, and maintenance all affect the lifespan of your water heater.
Waiting until your water heater fails may cost you more in the long run. Damage from a burst water tank not only means damage from flooding, but dealing with the cleanup of rust and other harmful substances that may take months to get completely out of your home. Plus, burst tanks do not always automatically shut off, and the heating element could continue to run.
2. Are your utility costs increasing?
Did you know water heaters are the second largest energy user in your home?
Living in the Northeast means your typical storage tank water heater has to work harder to keep up with ambient cold temperatures. Today's tankless and propane-fueled water heaters can save you upwards of $200 annually.
3. Have you maintained your water heater?
Annual maintenance of your storage tank water heater does more than extend its life. You're helping it run more efficiently by removing sediment and preventing rust build-up. Yearly tune-ups also provide for peace of mind knowing you and your family are safe from unexpected leaks or tank failure which can cause flooding.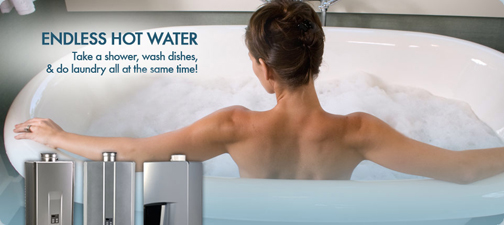 Thinking it's time to replace your water heater?
Talk to us about the benefits of switching from an electric water heater to a propane-powered water heater. Propane water heaters are more efficient, environmentally friendly, and more cost effective than electric models providing you the best in long-term value.
Recently enacted standards for water heaters have mandated a larger footprint for tank-base models. We can show you energy-efficient tankless water heaters that save valuable floor space and offer performance and installation benefits for homeowners.
Learn more about energy-efficient propane tankless water heaters here.
Request HVAC service
Schedule your annual safety check and tune-up or request repair service online.
We sell and service all makes and models of propane, oil, or natural gas systems.