Energy-Efficient Tankless Water Heaters
Get yourself in hot water.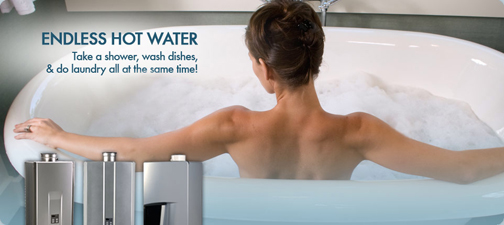 Endless Hot Water – never take another cold shower again!
Reduced Energy Costs – enjoy up to 40% energy savings.
Save Space – units are about the size of a carry-on suitcase.
Peace of Mind – no tank to leak or break, reducing floodiing risk.
Longevity – tankless water heaters last 2x longer than a tank water heaters.
Versatile Controls – set water temperatures precisely in multiple locations to ensure comfort and prevent scalding.
Still wondering if you should you switch to tankless? Watch this video for more information.
Contact us today!