Comparing the cost efficiency of heating oil vs. propane
Our customers often ask us which heating fuel and system would be the most cost effective for them. The answer is not as simple as just the price of the fuel. In fact, if you were to base your decision solely on the cost of the fuel, you would be leaving out many important variables that should be analyzed when making your final decision.
Every home and homeowner has a unique set of circumstances that need to be considered when evaluating conversion to a new fuel heating system or updating an existing HVAC system. For an accurate comparison, you should consider the following:
What is the efficiency of your current heating system?
The efficiency of your heating system will determine how much energy will be required to heat your home. The efficiency of your system varies greatly depending on the make/model and age of the system and how well it has been maintained. An older furnace may average 70-80% efficiency, while today's new energy-efficient units offer upwards of 90% efficiency.
Has your heating system been sized correctly?
It is important to know if your furnace or boiler can adequately heat your home without placing a great deal of stress on the unit. A heating and cooling system that is too small will cost more in the long run because it will require more energy as it needs to work harder to keep the space comfortable.
Contact us for a free in-home consultation and we will help you evaluate your heating system options.
All BTUs per gallon are not the same.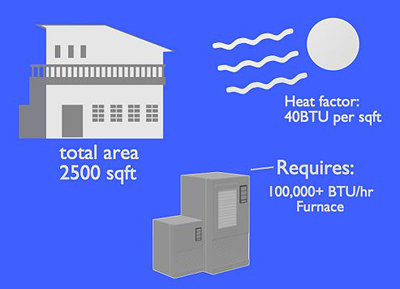 Although heating oil and propane are both delivered by the gallon, the amount of energy generated by combusting the two fuels is different.
Heating oil produces roughly 138,500 BTUs per gallon while propane produces around 91,500 BTUs per gallon. So, while propane may have a lower per gallon price, you will need to use more propane to achieve the same amount of energy that would be generated from a single gallon of heating oil.
The US Energy Information Administration offers a Heating fuel comparison calculator that factors in the relative price based on the fuel heat content and the heating appliance's efficiency.
Don't forget about versatility.
You should also consider how you are going to use your selected fuel. Propane has many more uses than heating oil. Propane gas can be used for cooking, heating water, and gas fireplaces, as well as for pool and hot tub heaters, outdoor kitchen appliances, patio heaters, lighting, back-up generators, and more.
Questions? We can help.
John Ray & Sons can provide you the best heating and cooling system options, so you can make a smart decision for you and your family.
Call 877-820-8938 or contact us today.
Request HVAC service
Schedule your annual safety check and tune-up or request repair service online.
We sell and service all makes and models of propane, oil, or natural gas systems.