Care of Propane Tanks in Winter Weather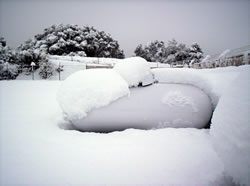 Northeastern winters may bring heavy snow, ice, sleet, and other weather conditions to your front door. The following tips will help minimize damage to your propane tank and keep you and your family safe and warm.
Make sure to mark your propane tank with a flag, pole, or stake that is higher than your average snow fall depth.
Have an adequate supply of propane in your tank as roads leading to your home may not be accessible for delivery after a snowstorm.
Use a broom – not a shovel or anything made of hard plastic or metal – to clear the snow off of and around the tank. Do not use a snow blower near the meter.
Be careful to avoid piling snow over valves, exposed piping, or the meter.
Check your regulator vents to be sure they are clear of snow, ice, or water that might freeze. If the regulator vent is clogged, be sure to contact us immediately.
Clear snow and ice away from all outdoor vents, chimneys, and flues to reduce the potential for CO poisoning.
If you use a snow removal service, make sure you review the location of your propane equipment and instruct them to steer clear of all parts of your propane system.
If you suspect any of your propane appliances or equipment have been compromised, or you have turned off your gas supply, please contact us so we can inspect your propane system, perform a leak test, and re-light your pilot lights.
For your safety, do not turn on the gas supply or use any appliances or equipment until a John Ray & Sons service technician has fully inspected your system.
Request HVAC Service
Schedule your annual safety check & tune-up or request repair service online.
We sell and service all makes and models of propane, oil, or natural gas systems.