Annual Stickball Tournament in South Troy Benefits Joseph's House and Shelter
Monday, June 10, 2019 – John Ray & Sons participated in the 11th Annual "Stick It To Hunger" Stickball Tournament hosted by the Friends of Little Italy and DeFazio's Pizza and took home the winning prize! The annual event benefits the children at Joseph's House & Shelter.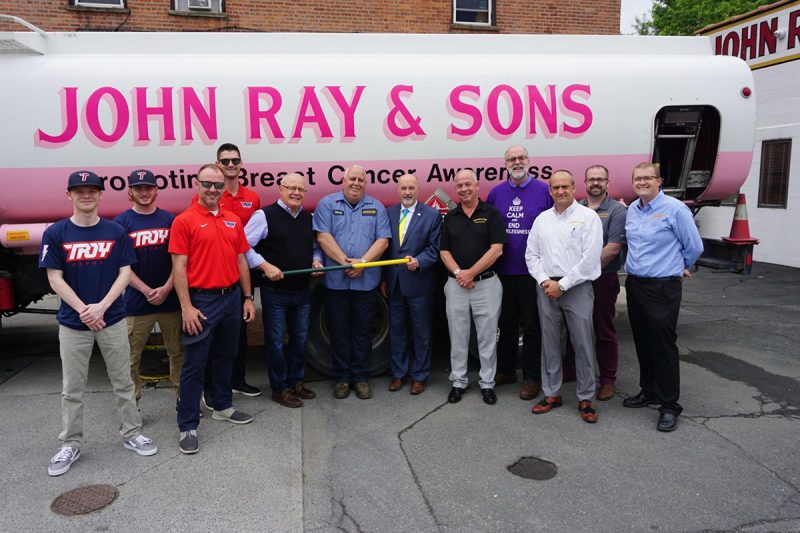 Photo Caption: John Ray and Sons earned the "The Golden Stickball Bat" award this year as part of the 11th annual Stick it to Hunger stickball fundraiser game held Sunday, June 9 form 12 p.m. to 5 p.m. at the Little Italy Market Place. Pictured from left, Russell Cooper, Rocco Teta, Ryan Parker – Troy Baseball Expo, Eric Beaulac — Troy Baseball Expo, Rocco DeFazio, Dave carpenter, John Ray & Sons, Troy Mayor Patrick Madden, Erik Pope, General Manager John Ray, Kevin O'Connor, Joseph's House & Shelter, Michael LaPorte – John Ray and Sons, Eddie Cottrell – John Ray and Sons, Sean Turner – Regional Sales Manager, John Ray & Sons.
TROY, NY — South Troy's Little Italy neighborhood hosted a block party and stickball tournament over the weekend, bringing the community together for a fun Sunday afternoon with a cause.
The "Stick It to Hunger: Stickball Tournament, an annual sporting event now in its 11th year, is a fundraiser for local nonprofit Joseph's House & Shelter.
Founded in 1983, Joseph's House & Shelter is a Troy community-based, not-for-profit corporation that provides a continuum of homeless services to residents of Rensselaer County.
Joseph's House and Shelter offers emergency shelter, street outreach, and support services to homeless and formerly homeless individuals, youth, and families, with a focus on providing non-judgmental services where each guest's dignity and worth are recognized and respected.
This year's stickball tournament, highlighted by a game between Troy's fire and police departments, was anticipated to raise about $25,000 to help the homeless children who reside at Joseph's House.
The tournament was also a fun opportunity for the community to play and watch stickball, a street game similar to baseball that's played using a broomstick and a hard rubber ball.
"This is baseball," said organizer Rocco DeFazio, a local businessman who is passionate about the game, which he used to play as a kid in South Troy.
"It brings back a little nostalgia to the people of Troy," DeFazio said. "It gets people out doing something different."
DeFazio was glad to see eventgoers enjoying stickball under sunny skies on Sunday.
"Everybody's smiling, and everybody's having a good time," he said. "You couldn't ask for a better turnout."
(Photo and article from the Troy Record.)