Annual Heating and Cooling Service
Top 10 Reasons to Schedule an Annual Tune Up for Your Heating and Air Conditioning System
1. Safe, clean operation.
Ensure that your heating and air conditioning equipment is operating safely and cleanly. Even a small problem can lead to leaks or dangerous carbon monoxide levels. Don't take a chance with the health and safety of you and your family.

2. Save on fuel costs.
According to the EPA, heating equipment that is maintained annually uses 13% less fuel than units that are not. With regular tune-ups an air conditioner will maintain up to 95% of its original efficiency. Without regular maintenance, an air conditioner looses about 5% of its original efficiency for each year of operation.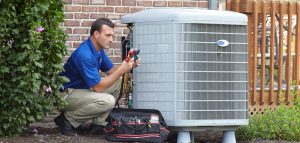 3. Ensure optimum comfort.
A tune-up by a service professional can improve unit efficiency by as much as 20 percent.
4. Extend life.
An annual tune-up can extend the life of your heating equipment by as much as 20-30% which can translate into 5-10 years of additional usage for a furnace or boiler.
5. Avoid emergency repairs.
Approximately 75% of all emergency heating and cooling repairs can be avoided with regular maintenance.
Schedule your service call today.
6. Increase reliability.
A tune-up now will reduce the likelihood of an HVAC system breakdown in severe weather.
7. Manufacturer recommendation.
All manufacturers recommend annual tune-ups for furnaces, boilers and air conditioners. If you skipped the last tune-up, it's time.
8. Warranty protection.
Take full advantage of our warranty protection with an annual cleaning and checkup.
9. Avoid costly repairs.
By checking each part of your heating and/or air conditioning system, our technician may be able to make small repairs that may turn into much larger, far more expensive replacements down the road if neglected.
10. Long-term savings.
The cost of an HVAC annual tune-up can be recovered very quickly in savings on your monthly electric bill and reduced repair costs.
Contact us to schedule your appointment today.
Schedule HVAC Service
Schedule your annual safety check & tune-up or request repair service online.
We sell and service all makes and models of propane, oil, or natural gas systems.
What Our Customers Are Saying …
"Thank you for the recent maintenance work. Your technician was very pleasant and considerate. He did an excellent job in all aspects of his work."
— Walter P., Greenfield, NY